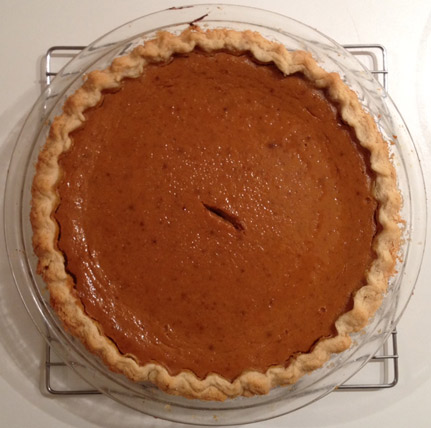 I really enjoy cooking and baking for Thanksgiving dinner.
The favorite family pie is the classic pumpkin! I use the recipe on the Libby pumpkin can. I follow it exactly except for the spices, these I cut in half. This is what my mother did and I am carrying on the tradition. By lessening the spices, the rich and delicate pumpkin custard is enhanced by the spices, but not overpowered.
Another alteration to my pie is the proportion of fat to flour in my crust recipe. Most recipes call for a 1 to 3 ratio of fat to flour, but I use 1 part fat (1/2 Crisco and 1/2 butter) to 2 parts flour. This makes a rich and very flaky crust.
I measure the flour, salt into a mixing bowl, add the cold Crisco and butter and then put the bowl in the refrigerator while I make the pumpkin filling. Cooling and keeping all the crust ingredients very cold including the bowl makes for a tender crust.
I then do the final crust mixing with my hands until the fat is incorporated into the flour in about pea sized pieces. The last edition of ice cold water moistens and finishes the dough, I add just enough so the dough holds together to form a ball. Once it is rolled out, transferred to the pie plates and filled with the pumpkin custard – into the oven it goes.
Happy Thanksgiving!
Margaret